Seungri Poses with His FC KING Teammates
Source: @tegangkun
[NEWS] Seungri Releases Provocative R-19 Teaser Video before Comeback
Big Bang's Seungri is drawing much attention by releasing a provocative R-19 teaser video clip just before his comeback. 
Today, YG Entertainment posted in the morning on its official blog YG Life an R-19 teaser video clip of Seungri's Let's Talk about Love, which is the title of his second mini album and the first song on the track list.
G-Dragon and Taeyang from Big Bang featured in Let's Talk about Love, and this is the first song where three members sing together since their debut seven years ago.
The songs in the new album are not rated R-19, thus many assume that the adult-classified teaser video is related to the title song Gotta Talk to You, which will be released on August 19.
The video clip released today does not show Seungri, but portrays a male and female models with object to depict a dreamy and classy feel.
The entertainment agency voluntarily asked for such classification, so people who want to view the video must go through an adult authentication process. 
Seungri is to show his matured self in terms of music, with his second solo album that he self-wrote, composed and produced for the last two and a half years.
The title song Gotta Talk to You is a fast-paced but lyrical house music. Han Sa Min, who was in charge of Big Bang's Blue, Bad Boy, and Monster music videos, is once again in charge of directing Seungri's latest one.
Seungri will be revealing his 2nd mini album Let's Talk about Love online first on August 19 (Monday). The album goes on sale on different on/offline music stores across South Korea on August 21 (Wednesday).

Source: YGFamily.com
[NEWS] Seungri Does Not Appear on the Teaser Video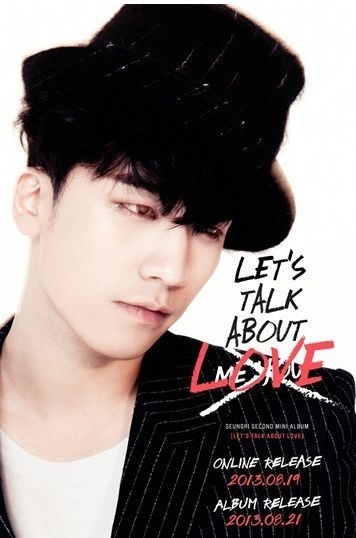 Big Bang's Seungri's solo comeback released unprecedented teaser for the fans.
On 16th, the title song and the first track of Seungri's second mini album Let's Talk about Love is revealed surprisingly with a 19+ teaser video through official blog of YG Entertainment.
However, Seungri himself does not appear in the video that is revealed today. It is a couple model and some art objects that come up on the screen sensually and full of fantasy. Voluntarily, this video is rated as 19+ and the viewers have to be certified as above 19 to be able to view this video.
The recorded songs in this new album are not explicit songs. On the other side, the music video of the title song Gotta Talk to You, which will be released on 19th August, seems to be associated with the teaser video that is revealed extraordinarily today.
Fellow Big Bang members, G-Dragon and Taeyang, are also involved by featuring in Let's Talk about Love. This is the first song that is sung by the three of the members since Big Bang's debut in seven years.
Meanwhile, Seungri's new album Let's Talk about Love will be released on 19th before it is available on online and offline stores on 21th.

Source + Image: star.mt.co.kr 
Translated by BIGBANGforLife
Seungri's Comeback Teaser on M!Countdown Next Week
Source: THANHNAMKOREANLIVE @ YT
"Message from SOL" - Taeyang's Message to Japanese VIPs (130814)
"Hello VIPJ, this is SOL. Actually, I was worried during a-nation if many fans would come because I was cast by myself all of the sudden. However, many fans came, thank you. I got power. If there is something again please come see me. I love you, bye!"

Source: Aeuy Brin @ YT
Translated by @mmvvip
SEUNGRI - "LET'S TALK ABOUT LOVE" TEASER SPOT (EXPLICIT)


~V~
OMG, VIPs! I can't update anymore. I'm dead seeing this teaser…. *lying down on the floor faint*
Daesung's Interview for Oricon Japan (130731)

Ending his grand solo tour, D-LITE released his first Japanese solo single 'I Love You'! For this piece of work, he perfectly covered Yutaka Ozaki's classic song that is rich with emotions. He also added in colors belonging only to D-LITE perfectly. We do not need to explain much about the song, what's attracting our attention is the MV!! Daesung has talked much about this MV!

Facing countless covered versions of 'I Love You' brings stress and worries

ORICON: D-LITE's first Japanese single comes from Yutaka Ozaki's classic golden song 'I Love You"!
D-LITE: Be it in Japan or Korea, 'I Love You' is a very famous song. There are also many versions of his song around which brings to me added stress. When covering it, I feel worried as well. However, Mr. Seiji Kameda who was also my producer for "D'scover" is producing this song and also world renowned violinist Hakase Taro's collaboration, I was able to finish recording this song in enjoyment. Although previously it was an album and it's a single now, it is still a challenge for me to convey my message and thoughts to listeners with only one song.
ORICON: At the same time, there are many people who carry memories of this song.
D-LITE: Because of this, it has become a precious song. This is exactly why I have to seriously convey my thinking using the song.
ORICON: When did you complete the recording?
D-LITE: In the midst of my tour, I completed it at the start of June.
ORICON: Your previous album was also recorded during Bigbang's world tour, you mentioned previously that there were some problems for you to go on the tour and also record for your album. How about this time?
D-LITE: Totally fine! As it is only one song, it did not feel bad! (laugh)
ORICON: This time round, D-LITE's voice left all of us a sincere and warm impression.
D-LITE: About this time, the recording environment was very good, Hakase Taro's violin was also exceptionally beautiful! After listening to Hakase Taro's violin performance, I felt very touched. I thought, because I had this mindset and mood during my recording process is what made me finish my song using the shortest of time. Also, Hakase Taro is a gentle and interesting person, his charisma is huge too. The time we spent together seemed to be fleeting moments.
ORICON: Which sentence in 'I Love You' is your favourite?
D-LITE:  In "Singer's Ballad", I like the sentence "Ah~ singing isn't a difficult thing". After that, it also left me the same impression that singing isn't difficult. For this time, the entire song lyrics is so beautiful and splendid. When performing it, I was working hard to emphasize on "Even when facing the trials by the world, this love will only still belong to both of us".
ORICON: So, your MV this time has also made headlines.
D-LITE: (quietly pondering) Ah…… Yes……. (laugh).
ORICON: There are so many areas we would like to understand.
D-LITE: Then please cut your story short (laugh).
ORICON: Fans who initially felt uneasy for your expression and acting skills went "Eh?!" when halfway through your video. There are some shocking scenes in the MV right?
D-LITE: Yes… I guess so…? (pretending to be blur)
ORICON: Then, we shall ask that question later on. Let's talk about when this MV was filmed and where was it.
D-LITE: The day we finished recording, I went back to Korea and we finished filming everything in 2 days. Then I headed back to Japan immediately to continue with my tour. Although there are a few places we went for filming, they were all located within a distance of 10 minutes from YG office. The scene at the tunnel was shot at somewhere further named Uijeongpu.
ORICON: At the start of the MV, in the tunnel, drenched D-LITE was singing with an expression that seemed lost.
D-LITE: Ah, however, the rain is fake (laugh). However, because it was filmed during midnight, I was a little sleepy. That's why my expression did not look really good (laugh).
ORICON: Then, you caressed your girlfriend's long hair at the sickbed and you gently pulled the blankets up for her. That left us with a lasting impression, then you…….
D-LITE: That~ Are you going to talk in detail? I still feel a little embarrassed ><
ORICON: Sorry. This time round it's an MV with a designated story plot. D-LITE has also showed us his acting skills.
D-LITE: Ah~ Acting skills…… I don't have any.
ORICON: How can you say that, your acting was good.
D-LITE: I did not act in a very long time, I feel so strange. Lucky for me, the Korean actress acting with me was guiding me along gently which saved me.
ORICON: After that there was a scene where you broke the glass using a fire extinguisher, it totally showed your manly side in gentle D-LITE.
D-LITE: Um, yes (laugh). It's a real fire extinguisher so it was so heavy! But because it is glass, I can only do it once, if I don't do it well, I am unable to use this scene for my MV. So I did it carrying a "I must not fail" mindset.

ORICON: What does this scene represent?
D-LITE: It means that I will succeed even if I do it again!



The scene that left the deepest impression for us in the MV

ORICON: When looking at D-LITE's different but sincere expressions, I felt like I went a step closer to knowing you. If D-LITE were to pick the most memorable scene, which one would it be?
D-LITE: Definitely the kiss scene (suddenly upright) That's because I prepared so much for it (laugh)
ORICON: Thank you for your answer which was what we were expecting! What preparation have you done for this kiss scene?
D-LITE: The day before filming I started brushing my teeth every 5 minutes. I have to be prepared! (laugh).
ORICON: Doing your full preparation to welcome the filming. Then, how was the actual filming? Is it fine even when there are NGs?
D-LITE: There wasn't any NGs! Filming ended in about 30 minutes..
ORICON: Wow, so awesome!!
D-LITE: Actually, I wanted to film a little longer… Ah~ I'm so sad (laugh).
ORICON: Saying things like this will make fans sad oh.
D-LITE: Just joking (laugh)
ORICON: Did you feel nervous?
D-LITE: Definitely nervous, but rather than nervous, I felt more pressurized as I had to finish filming in 2 days. Thus I kept thinking that I had to faster finish up filming but with quality.
ORICON: What happened? In the MV, you know that your girlfriend has a serious illness so you composed 'I Love You', you did not show your sadness, but you did many things for her, creating memories belonging to only both of you. What will D-LITE in real life do if he meets something similar?
D-LITE: Firstly it would be the hospital… I will switch her to the hospital with the best doctors (laugh). In the MV, didn't she work hard to let me see her healthy self because she didn't want me to know she was ill? However, her illness may become worse and lastly, both parties have to end up in a painful state. But I will be unable to accept my broken heart so I have to do my best to cure her sickness. I am different as compared to my MV.
ORICON: Let's continue the topic just now. As you saw your girlfriend gazing into the glass which holds the bridal gowns, you broke the glass in a rash and you wanted to satisfy her wishes risking your own safety. Will you do that in real life too?
D-LITE: I will definitely not do risky things. But once I know what her wishes are, I will satisfy her within my own means. In the MV, because I do not have any money, I can't buy it for her. I did that action in an act of desperation. I would never do that in real life, I will buy it immediately and give it to her as a present.
ORICON: If, you do not have money?
D-LITE: I will still give her a present that has a meaning filled with all my heart. What's most important is not the present itself, but the thought of it. Anyway, if the person is materialistic, I believe she will not get along with me too.
ORICON: After this tragically beautiful song, you have added some special songs as your bonus tracks. Live versions of original songs "Wings", "Try Smiling", "A Big Hit" and "Look At Me, Gwisoon!" that were all performed during your solo tour. If you say that 'I Love You' is quiet and gloomy, then your bonus tracks are generally all more happy and cheerful, in D-LITE style.
D-LITE: "Try Smiling" was my debut song in Korea so it might be more difficult for them to understand since it is in Korean. I guess if everybody could see my previous photos or watch my live, you might be able to understand the concept of the song better, so I shown some photos that I personally selected. But I have been regretting it since the Kobe's first performance till the final performance (laugh).
ORICON: Although you say you mind it, but it has already been past half a year anyway.
D-LITE: Time really flies. If only I can experience what I have experienced in these half a year with Bigbang, that would be best! It's not just me; all the members have matured through their solo activities. All of us want to bring these results and show it to our Japanese fans during our dome tour that starts in autumn!
ORICON: It is an unprecedented 6 dome tour set by overseas artists!
D-LITE: Ai ya~ We are just luckier (laugh).
ORICON: No no. It's not just about luck, coming to this step is definitely not just because of luck.
D-LITE: We will still work hard even in the future. We will work hard to bring good songs for everyone and to present the perfect stage for fans! I thank those who can make it for our concert! Lastly, please listen more to 'I Love You', support me more oh~!

Source: Oricon Japan 
Translated by nakedae @ SMILE HOLIC
Daesung's Interview with EXCITE MUSIC (130729)

EXCITE: You've worked hard for 'D-LITE D'scover Tour 2013 in Japan ~DLive~'. Like what we have seen, apart from the excellence of the songs, D-LITE's own charm has also infected the whole venue. How do you feel now that the tour is over?
D-LITE: I really learnt a lot through this tour. From the staff to everybody present, I realized all of us could be one. I think this is the biggest discovery.
EXCITE: Bigbang members came for the concert too, did all of you talk about your thoughts for the concert?
D-LITE: We did not (laugh). As we are all men, we don't really speak with such details. But they said I've worked hard, which actually has a deeper meaning in it. Right now all of us are busy with our own activities, when they came for my concert it was quite hard. So they used "You've worked hard!" to represent everything.
EXCITE: Just through a "You've worked hard" and you can sense so much. It's because of your trust within each other right?
D-LITE: Yes, it's like this.
EXCITE: For your first solo single, 'I Love You' will be released on the 31st of July. I heard that this song was also covered in Korea before and it was also quite famous. Any thoughts about that?
D-LITE: At the start it was covered by a Korean band called POSITION. 'I Love You' was originally a song that I liked. The Koreans love this song so much they thought that this song was from Korea, it is very famous in Korea. Afterwards, I saw Yutaka Ozaki's video and I think that the original song is still the best.

EXCITE: Yutaka Ozaki is a special artist where everybody will still carry his passion on even after he passed away. Any artist covering this song will also feel pressurized. What mood did you bring to sing this song?
D-LITE: Definitely, when I was covering this song it was very stressful. Because the original song was so good thus it was already perfect just being the way it is. I feel that it is most important to add all types of feelings into the original song. Without ruining the original song's vibe and adding my own colours in naturally is very important. After listening to 'I Love You' by me, you will feel the charm of the original song and also my personality. I wanted listeners to experience this effect which is why I wanted to re-arrange the song. As this is a solo single, it is most stressful. As 'D'scover' is an album, in the re-arrangement of the songs, I can do some variations about it. The whole album is done based on what I want. But for the single, I have to consider about the original song and adding my thoughts in it. I am a little worried about that.
EXCITE: Yutaka Ozaki uses falsetto to perform the song's climax which is at the latter half of the song. However, D-LITE used a strong voice to sing it. In this part I can feel D-LITE's personality, however, how do you decide between "I would like to change this part" and "I would like to keep this part"?
D-LITE: It was decided after listening to the original songs many times and basing on my image. This time, I want to try listening to the songs of other artists who have covered 'I Love You'. Up till now, there have been countless of artists who have covered this song. For example, Hikaru Utada, Masaharu Fukuyama, Ayaka and Kobukuro etc. At the start, I asked my manager to bring me all the songs of artists that covered 'I Love You'. I listened to about 12-13 songs. These songs cannot be similar but it is also not allowed to put aside the colors of the original songs, but I still have to add my own colors in naturally.. Due to this I've thought a lot, I kept on researching and trying and finally completed the song. I think what's most important is how I blended my colors in naturally.
EXCITE: So I see. Wouldn't it be difficult to search for a balance like this?
D-LITE: Very difficult (laugh). However I am not alone this time, I also have producer Seiji Kameda and violinist Hakase Taro working with me. So I was able to receive different inspirations from them and produced good works.
EXCITE: Hakase Taro spoke of how he obtains energy from his violin sounds, what is this "energy"? Does he mean that this sound gives him the idea of his works?
D-LITE: Before recording, I will think of how to produce this song using my own voice and vocal style. After that, I will record and feel the mood around me and make slight changes to it. But I think what's most important is how I co-ordinate with my instruments. The player of the instrument appears only during recording, isn't this how the instruments holds power? If you try and listen a few more times, you will understand. Try to feel, try to do it with co-ordination… However I understood Hakase Taro's violin sounds only after one time [Ah, the atmosphere was so good], I had a clear path of my musical works. Thus, it took me only a short while to record this song.
EXCITE: This "image", are you talking about the sights and colors?
D-LITE: Yes… If I explain this song in colors, it would be a color of blue and purple mixed together. Loneliness, intense, sombre (not quite though) and beautiful. I think it has all types of colors added in it. Same goes to the content of the lyrics, although it is a love not accepted by the world, it still felt great just feeling the love of the two of them. POSITION san's lyrical content is slightly different, it was more flowy and it was really beautiful. I focus a lot on the original song's lyrics which is why I would like to emphasize this image. Direct, lonely, courage and a little risk-taking factor. I like this very much.
EXCITE: Are there any parts where you felt that it left a deep impression on you? Or any part you yearn for?
D-LITE: There are parts where I had impressions of. Of course I can't understand Japanese fully, but I always understand the lyrics by translating it to Korean then I will listen to the song again. But for this time round, I just read the song lyrics once then I could understand it, like "Ah, the main point is over here. The lyrics contains some risk-taking factors and also courage!" Then I used this as my foundation and discussed with Seiji Kameda before re-arranging the song.
EXCITE: Working with Seiji Kameda, how do you guys work together?
D-LITE: Because Seiji Kameda is a very cheerful person, so people around him will get infected as well, this is what I like the most. During "D'scover", there was once where something similar happened. During discussion I just told him everything what I wanted although it was strange content (laugh). Seiji Kameda then said "Ah, so D-LITE has this thinking now? Wanting to present with his voice". Sometimes if I would like to further explain myself I would tell him how I want something more in this area. Sometimes I have thoughts like "Such a re-arrangement would be best if this type of mood comes out". I don't know if Seiji Kameda can read my mind… (laugh) To be honest, we are two good partners that match well. This time, we do not need to make any adjustments too.
EXCITE: So it's like telepathy isn't it?
D-LITE: Yes. [Is Seiji Kameda a monster?] Although it's a little scary (laugh). Starting from now, I would still like to work with him (laugh).
EXCITE: The color mixed together with blue and purple is dark but not pitch black. I can feel this from your MV. Was the filming done in Korea?
D-LITE: When filming the MV, the director respected my wish as well. And we also talked about the color scheme; I think it was presented quite brightly.
EXCITE: Any deep impression about a particular scene of the MV?
D-LITE: Please shorten any questions you have about the MV! (laugh)
EXCITE: (laugh). Although you don't like being asked, but is that kissing scene real?
D-LITE: Hahahahaha! I don't understand Japanese! (laugh). However… it is like this, we really kissed oh. As it was my first on-screen kiss scene, my heart was beating so fast.
EXCITE: Very nervous right.
D-LITE: I started brushing my teeth once every 5 mins from the day before the kissing scene, very nervous (laugh). However, initially I thought I had to film it for 2 hours, in the end it ended after 5 takes. The technique for filming was like a cartoon, we filmed the kiss scene under the rain where the droplets dropped slowly. It was beautiful and also sad. I love this type of atmosphere. It's a very good piece of work.
EXCITE: For your bonus track, there is "Wings", "Try Smiling" and "Look At Me, Gwisoon" live version. What do you think after listening to it all over again?
D-LITE: Very shy. However, for the sake of fans who did not come to the concert, I added these tracks in. Next time we shall enjoy the concert together, all of you must come!
EXCITE: When performing "Try Smiling", the screen showed your debut photo which made the audience hyped up. Did you think of that?
D-LITE: (whispers) Yes, although I was very shy….. (laugh). "Try Smiling" is in Korean so I don't think everybody can understand it 100%. It is my first solo single since debut so it holds a meaning to me, I wanted fans to see the D-LITE then and now. As for how I should show it to them, I think using photos is the best way.
EXCITE: We can see that time passes, it was a outstanding performance. At the end of "Look At Me, Gwisoon!", you also recorded "Thank you everybody!" into the disc, the atmosphere was high.
D-LITE: Yes. As it was trot, I personally like trot a lot because I listened to it frequently when I was young, so I did not feel uneasy when singing it. I think this was when I enjoyed myself fully 100%.
EXCITE: Lastly, please leave a message to fans that have been waiting for your solo single.
D-LITE: I personally think that the original song is very good. I think that all of you must had lots of memories with the original song, but after hearing my version of 'I Love You', it will bring back your original memories and also create new memories. So, please listen to 'I Love You' repeatedly and create memories!

Check out the photoshoot of Daesung with EXCITE MUSIC here.

Source: EXCITE MUSIC
Translated by nakedae @ SMILE HOLIC
BIGBANG for Life
Every VIPs need BIGBANG in their life.
Hence, we provide 'air' for VIPs all over the world with BIGBANG related latest news, pictures, and videos!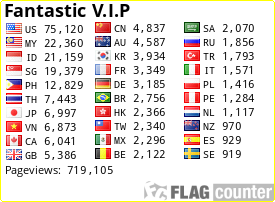 (since May 1, 2012)
If you like and want to support BFL, please click on the ads often! ^^